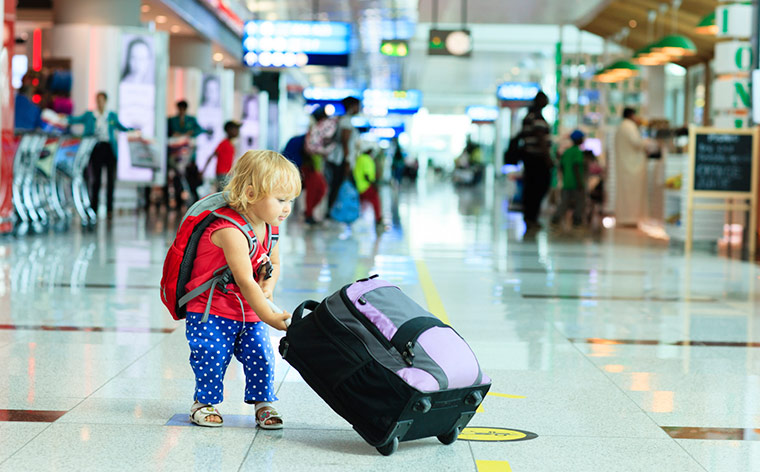 28 Nov

12 tips for travelling with kids

There is certainly plenty to think about when planning a trip with kids – what to pack, what essentials to stock up on beforehand, where to stay, how to get there, what to do when you get there, and how to keep everyone fed, watered, happy, healthy and safe along the way.

Whether you're heading to Launceston or Laos for your next family holiday, here are a few handy hints to help make your trip that little bit easier.
Travelling with small children? Allow yourself plenty of time.
No doubt you're already well aware that everything takes a lot longer with small children and toddlers in tow.
As a general rule, factor in more breaks and fewer activities when putting together your daily itinerary. Small children have short attention spans and get tired very quickly. The less you feel you have to squeeze in, the more enjoyable and stress-free your days will be.
Be sure to include a little bit of downtime for yourself too! See if there are any local babysitting or nanny services offered at your accommodation, and plan to give yourself a well-deserved break from time to time.
Book accommodation well in advance.
Gone are those heady, spontaneous, carefree days when you could arrive in a new city with no previous thought as to where you were going to sleep that night.
At the very least, with tired and hungry kids in tow, it is wise to pre-book your accommodation for the first couple of nights. That way you can explore other options at a more leisurely, stress-free pace, after everyone's had a decent feed and (hopefully) a good night's sleep.
Look into equipment hire.
You may be able to hire baby items such as prams, strollers, cots and highchairs at your destination, rather than lug your own. This will greatly reduce the stress of packing and also help de-escalate the excess luggage situation if you are flying.
Safety equipment such as stair barriers, gates and pool fences might also be worth investigating, depending on the kind of accommodation you have chosen.
If travelling by plane – check your airline luggage policy.
Often you can take a cot, pram or baby car seat without it being included in your luggage allowance. Some small prams and strollers can also be taken on flights as carry-on luggage.
Travelling overseas? Check your passports!
Passports for children under the age of 16 are normally only valid for five years. They also have a habit of running out when you're not looking. Make sure you allow at least four weeks if you need to have one renewed.
Talk to your doctor before you leave.
If travelling overseas, ask your doctor about any immunisations you and your family might need beforehand. The Royal Children's Hospital recommends you do this at least 8 weeks before your departure date, so that all immunisation requirements can be completed in time.
Look into travel insurance.
Overseas medical care and medical evacuation can be extraordinarily expensive. It is well worth investing in adequate travel insurance to make sure you and your family are covered if anything goes wrong. If one of your children has a pre-existing medical condition, you may need to complete extra forms, so it's a good idea to arrange your travel insurance as early as possible.
Be prepared for the climate.
If you are travelling to a warm, sunny climate:
Pack double the amount of sunscreen you think you will need. It is amazing how quickly that stuff runs out, and it can be quite expensive to buy in some countries.
Insect repellent and an anti-itching/anti-sting cream is a must-have.
When packing clothing for humid climates – natural, breathable fabrics like cotton and rayon are the way to go.
Take a medical kit.
Be sure to include items such as baby paracetamol, a thermometer, oral rehydration tablets/preparations, bandages and bandaids.
It is also a good idea to speak to your pharmacist about any travel sickness medications you might need on your trip.
Make sure you are well stocked up on essentials.
For infants and toddlers, be sure to pack plenty of nappies and wipes. If heading overseas, it is worth researching the availability and price of nappies and wipes in advance. These items can be expensive in some countries, and the range of nappies available can sometimes be quite limited.
Antibacterial wipes and hand sanitiser are also good to have on hand. In the absence of adequate hand-washing facilities, a quick wipe and a squirt of sanitiser is an effective way of zapping a few germs and keeping common bugs at bay.
Have a contingency plan for getting from Point A to Point B with your sanity intact.
Keeping kids amused throughout long stretches of travel requires a little bit of planning and forethought.
Before you leave, load your phone or tablet with apps for kids that don't need Wi-Fi so you can access them anywhere.
Pack a few favourite toys and books from home. This will also help the kids to settle in once you reach your destination.
If you have a nanny who is happy to travel with you, work out a schedule before you leave so you can each have a turn of entertaining the children on the plane, and a turn of getting some rest. That way, you won't be too exhausted by the time you get there.
If you are driving, allow plenty of time to get to your destination, with regular stops for meals, drinks, snacks, and the odd meltdown along the way.
Remember that some degree of routine is a good thing.
Many children benefit from routines, whether at home or on holidays. As tricky as it may seem, it is worth trying to stick to some basics, such as mealtimes and bedtimes, while you are away. Maintaining these routines can help children better adapt to the upheaval of the travel experience, and ultimately make everyone's time away from home more enjoyable.